Orange Mountain Bikes - Clockwork 25 Spec Sheet
From the 2014 Archive
Overview
In 2014 the Clockwork celebrates its 25th birthday. To mark this important milestone in the bike's history we've ordered in a magnum or two of Champagne and a huge cake. We've also produced a very special, limited-edition version of the Clockwork; the Clockwork 25.
We don't expect the Champagne and cake to be around for long and these Clockwork 25 anniversary bikes will disappear even quicker. With a production run of only 25 this exclusive model takes our acclaimed custom-butted aluminium 29er Clockwork frame and gives it the full five star treatment to produce a truly special bike for this truly special occasion.
Fittingly sprayed in Sterling Silver to celebrate a quarter of a century, each bike comes with an individually numbered commemorative metal seatube badge and custom Clockwork 25 decals throughout.
Purple anodised Hope hubs, rotors, BB, seatclamp, headset, skewer, brake caliper bore and reservoir caps give a nod to the past, while being very much at the cutting edge. Both the 28 spoke hubs and brake reservoir caps are custom laser engraved with special-edition Clockwork 25 artwork to match the frame's decals.
Up front the top-flight 120mm RockShox SID forks with Fast Black stanchions offer slick looks and even slicker performance, the perfect match to the frames light-and-fast remit.
Finishing off this silver bike is the gold standard in cockpit components from Thomson, combining their glossy-black carbon bars and deep-black anodised stem and seatpost.
Fast and fun are a given with a Clockwork, the Clockwork 25 adds real exclusivity into the mix too.
The history of the Clockwork.
We love all our bikes, but it's fair to say the Clockwork holds a special place in our hearts, as the Clockwork originates back to the beginning of Orange. It was our very first production bike and its design even pre-empted our company name, in fact it provided the inspiration for our name.
The start of things.
Back in 1984 mountain biking changed for us, from being a recreational pastime to a full time obsession. The frames that Orange's founders, Lester and Steve, had made for themselves featured laid back geometry suited to the many miles they put in scouring the UK for the best trails. However, when their attention turned to mountain bike racing in 1986, they found fashion dictated that race bikes needed very steep angles, similar to those used for racing on the road. This didn't make a lot of sense to Lester and Steve, so the race bike prototypes they constructed employed similar geometry to the bikes they had been using for 'normal' riding but with a lighter tubeset. The bikes' instant race success proved them right. Despite this racing success their obsession for finding new trails and for long expeditions didn't diminish and they quickly evaluated that their relaxed geometry suited both sides of mountain biking; racing and general riding. An added bonus of the new frames was they showed no sign of fatigue, highlighting the fact that their previous bikes were over-engineered.
It was this evolution that got them thinking that one production frame could cover the complete range of riding. The 'all-round-range'. The O-Range. Orange.
It was this methodical, step-by-step process that, in 1989, led to the production bike being called the Clockwork. When it came to putting the Clockwork into production Tange's Infinity tubeset was settled on for it's superb strength to weight ratio, ideal for a bike designed to do it all. With its striking orange and white fade paintjob, wishbone rear seatstays and relaxed geometry the Clockwork certainly stood out from its contemporaries.
Evolution
In recent years, with European legislation introducing stress tests that don't take into consideration the positive attributes of chromoly steel tubing, two of the most reliable frames in our history, the Clockwork and P7, have been retired as they would not pass current European test certification. To get through the latest tests the chromoly tubes would have to be significantly thicker, so much so that frames would have to be a third heavier than they were 25 years ago. This rubs against the grain of what the Clockwork is about.
While it would have been easy to get hung up on frame materials the important thing for us was to maintain the original ethos of the Clockwork; a bike that can be used for everything from rough-stuffing to high-level racing, as this was the reason it was held in such high regard.
The Clockwork frame material of today has evolved to a relatively small-diameter high-modulus aluminium. A material selection which breathes, providing comfort more associated with chromoly, remaining true to the low-weight, high-strength mantra of the original.
Aside from frame material the other significant change from the first Clockwork is the adoption of 29inch wheels, and if there was ever a wheel size that encompasses the original ethos of being ideal for both racing and long distance adventure riding, 29inch is it. A stiff and light frame coupled with larger diameter wheels, provides the comfort and speed for which the Clockwork was famed. Had 29inch wheels been readily available 25 years ago the original Clockwork would certainly have been rolling on them from the start.
We've come a long way over these 25 years, with plenty of adventures along the way, but one thing that hasn't changed, and will never change, is that obsession with to making the best bikes possible. The Clockwork 25 reflects this obsession. Here's to 25 more years.
Long live the Clockwork.
Clockwork 25 Specifications
RRP
£

2,499.99

Sizes
S,M,L,XL
Colour
Sterling Silver
Tubeset
6061-T6 Custom Butted OS Aluminium Tube
Rear Shock
N/A
Swing Arm
Forks
Rockshox SID RL 120 Tapered Steerer 15mm Maxle
Front Mech
Shimano SLX
Rear Mech
Shimano XT Shadow + 10spd
Shifters
Shimano SLX R Fire +
Brakes
Hope Stealth Race Evo M4 183/160 Floating
Bottom Bracket
Hope Stainless BB
Crankset
Race Face Evolve 10 sp 22/32/42
Cassette
Shimano HG62-10 11-36T
Wheelset
Hope Pro II Evo + Stan's No Tubes ZTR Crest
Tyres
Schwalbe Rocket Ron 29x 2.1
Headset
Hope Headset 2H (ZS44/EC44)
Stem
Thomson X4
Handlebars
Thomson All Mountain Carbon Flat 730
Grips
Strange Lock-on grips
Saddle
SDG Falcon Orange Ti-Alloy Special Edition
Seat Post
Thomson Elite
Seat Clamp
Hope QR Seat Clamp
Pedals
Flat
Accessories
Geometry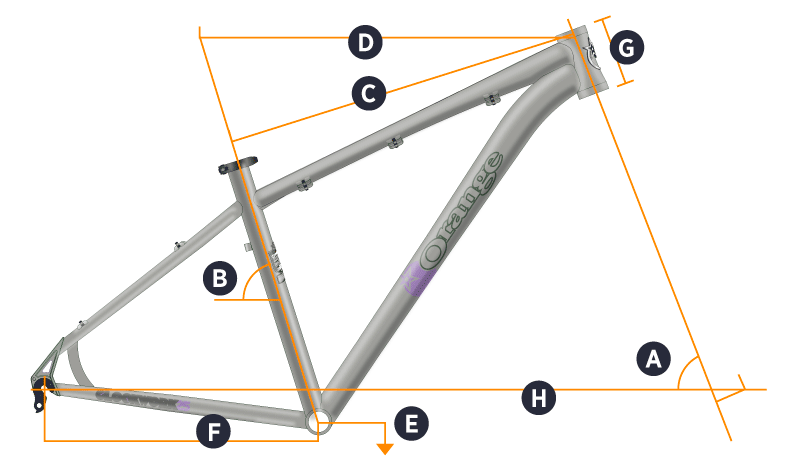 Clockwork GEOMETRY
6061-T6 Custom Butted Aluminium
Frame Size
S
M
L
XL
Seat Tube
15"
17"
19"
21"
A. Head Angle
70°
70°
70°
70°
B. Seat Angle
73°
73°
73°
73°
C. Top Tube
579
589
604
622
D. Effective TT
589
608
629
648
E. BB Height
-60
-60
-60
-60
F. Chainstay
450
450
450
450
G. Head Tube
110
110
120
130
H. Wheelbase
1099
1118
1139
1160
Seat Tube Ø
30.9
30.9
30.9
30.9
Standover
725
770
790
820
Unless otherwise indicated all measurements are in mm.
Frame angles are measured static, without rider sag.
Bottom bracket height measured from axle.
technical Info
fork travel

| | | |
| --- | --- | --- |
| OPTIMUM | MAXIMUM | MINIMUM |
| 100 mm | 120 mm | 100 mm |

Single crown
Triple Clamp
Rear Hub
135 mm
Seatpost Ø
30.9 mm
Front Derailleur
Band
BB Shell
68 mm
Tapered Headset
Upper: ZS44/28.6
Lower: EC44/40
Ride Guide
| | | |
| --- | --- | --- |
| Yes | Downhill | 4.0 out of 5 stars |
| Yes | Freeride | 4.0 out of 5 stars |
| Yes | Enduro | 5.0 out of 5 stars |
| Yes | All-Mountain | 4.0 out of 5 stars |
| Yes | XC Trail | 4.0 out of 5 stars |
| Yes | Adventure | 4.0 out of 5 stars |
| Yes | Touring | 4.0 out of 5 stars |
| Yes | XC Racing | 4.0 out of 5 stars |
Prices and Specifications are liable to change without notice.