Orange Mountain Bikes - P7 Frame Spec Sheet
From the 2011 Archive
Overview
The Reynolds 631 double butted CroMo tubeset lies at the heart of Orange's best selling bike ever, the P7. It's also the key to its versatility. It's been central to the Orange line-up for over ten years. Today, it's the same, versatile platform, gently updated to take advantage of new technology and to make it, well, even more versatile.
Want to cycle tour to Istanbul? Into the whole singlespeed thing? Want a super-tech hardcore hardtail? There's a P7 model for you. There's a P7 model for you. There's even an ISCG 05 chainguide – so even if you fancy trying a state-of-the-minute SRAM Hammerschmidt, you can.
But what if you just want a mountain bike that'll handle the trails? That has always been at the heart of the P7 ride. Deep down, it's 'just' a mountain bike – and the beauty of mountain bikes is that they have so many uses: as many as there are owners. The steel chassis gives a lively, but direct feel, the versatile geometry allows the P7 to please everyone from tech-fest Lakeland riders to map-crossing all-day (or all-summer) adventurers.
Best on test here, the orange has the most no-nonsense approach - nothing too flashy, but it rides brilliantly with excellent balance.
Why the P7 Frame?
A solid performance CroMo frame, the perfect starting point for the hard-core hard trail bike build.
Still crave Reynolds steel, but in a lightweight XC package? Nip across to the 853 R8 Frame
Read the reviews for the P7...
P7 Frame Specifications
RRP
£

499.99

Sizes
15,17,19,21
Colour
Hot Chocolate
Tubeset
Reynolds 631 Double-Butted Cro Mo Steel
Rear Shock
N/A
Swing Arm
Adjustable/Sliding dropout
Geometry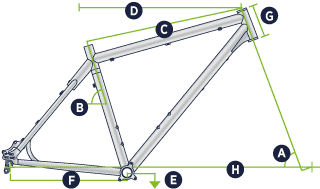 P7 GEOMETRY
Double-Butted Reynolds 631 Cro Mo Steel
Frame Size
15"
17"
19"
21"
A. Head Angle
68°
68°
68°
68°
B. Seat Angle
73°
73°
73°
73°
C. Top Tube
544
559
576
597
D. Effective TT
560
580
600
620
E. BB Height
-35
-35
-35
-35
F. Chainstay
430
430
430
430
G. Head Tube
100
120
120
140
H. Wheelbase
1069
1090
1110
1131
Seat Tube Ø
27.2
27.2
27.2
27.2
Standover
697
742
781
821
Unless otherwise indicated all measurements are in mm.
Frame angles are measured static, without rider sag.
Bottom bracket height from ground with 670 mm Ø tyre.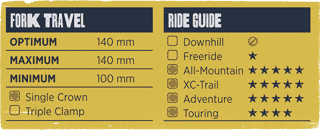 Please be aware this information is from our archives. While we make every effort to ensure accuracy, this may not be the final specification or geometry for this model for the model shown E&OE.