Orange Mountain Bikes - 224-Evo World Cup Spec Sheet
From the 2012 Archive
Overview
What can we say about the 22X series that hasn't already been said by a string of world champions, hundreds of privateer racers and a seriously enthusiastic biking press? It's simple – just like its legendary predecessors, the 224-evolution is designed and built for off-the-peg downhill speed and competition victory at every level.
At the heart of the 224-evolution lies massively stiff but lightweight front and rear ends, joined by our famously reliable and slop-free oversized single-pivot assembly. A wide axle clamp area enhances already phenomenal tracking, while the 224-evolution's eccentric headtube system and adjustable shock mount enable independent tweaking of the bike's head angle, wheelbase and bottom bracket height – perfect for individual riding styles or terrain and gradients that change from course to course.
The end result is breathtaking – a super-plush, super-stiff yet highly manoeuvrable DH bike, equally at home on the international and domestic race circuits or pinning it just for fun. But don't take our word for it – take a look around and believe what you see.
Why the 224-evo World Cup?
This is the top of the Orange Range. The ultimate World Cup race bike. This model is specced with all the high-end components to make this the most competitive machine straight out of the box. If you want the best... this is it.
Want to check your options? 224-Evo Race for for a simpler spec.
224-Evo World Cup Specifications
RRP
£

4,799.99

Sizes
15,17
Colour
Cosmic White
Tubeset
Monocoque/ 6061-T6 Custom Butted Aluminium Tube
Rear Shock
Fox DHX Factory RC4
Swing Arm
12mm Bolt Thro
Forks
RockShox Boxxer World Cup Solo Air MC 200mm
Front Mech
MRP G2S Chain Device
Rear Mech
Shimano Saint
Shifters
Shimano Saint R Fire +
Brakes
Hope Tech M4
Bottom Bracket
Race Face X Type
Crankset
Race Face Atlas Single X Type
Cassette
SRAM DH PG970-9
Wheelset
Hope Pro II Evo-Mavic EX721 DH
Tyres
Maxxis Hi Roller Super Tacky 2.5
Headset
Hope
Stem
Renthal Duo Stem
Handlebars
Renthal Fat Bar 20mm
Grips
Saddle
SDG Bel Air
Seat Post
Thomson Elite
Seat Clamp
Pedals
Flat Silver
Accessories
Geometry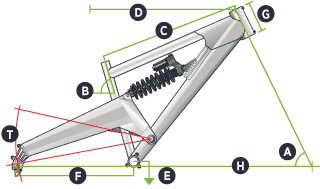 224-evolution GEOMETRY
Monocoque/6061-T6 Custom Butted Aluminium Tube
Frame Size
15"
17"
A. Head Angle
64°
64°
B. Seat Angle
72°
72°
C. Top Tube
546
564
D. Effective TT
570
590
E. BB Height
+19
+19
F. Chainstay
445
445
G. Head Tube
120
120
H. Wheelbase
1181
1201
T. Rear Travel
215
215
Shock Length
240
240
Seat Tube Ø
27.2
27.2
Standover
750
785
Unless otherwise indicated all measurements are in mm.
Frame angles are measured static, without rider sag.
Bottom bracket height measured from axle.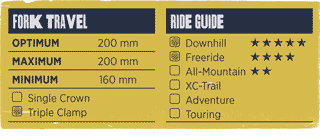 Prices and Specifications are liable to change without notice.